An Environmental History of Soy During the Great Acceleration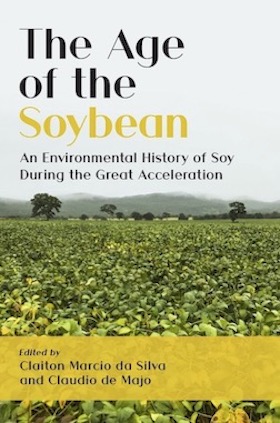 Edited by Claiton Marcio da Silva and Claudio de Majo
The soybean is far more than just a versatile crop whose derivates serve the protein needs of a meatless diet. One of the world's most important commodities, soy represents the embodiment of mechanised industrial agriculture and is one of the main actors behind the socioeconomic, political and ecological transformations of industrial farming in several world regions. Despite the crop's potential as a cheap source of vegetal protein for human consumers, most industrial soybean production has fuelled the global meat industrial complex, as animal feed. Soybean is thus, paradoxically, still a relatively 'invisible' crop to the public at large, although its global yields continue to increase at stupendous rates, lining the pockets of agribusiness and to the detriment of traditional agriculture.
The transnational socio-ecological and economic entanglements characterising this versatile legume's global expansion have prompted scholarly attention as researchers around the world have begun to unveil the main historical drivers behind the rise of the soybean in the global food chain. This book aims to expand the analysis, offering the most significant effort so far at an environmental history of soybeans. Interrogating the socioeconomic and ecological transformations determined by (and determining) the rise of soy in international food chains during the Great Acceleration, the volume gathers contributions from an international cast of researchers, working in numerous geographical contexts, from Japan and China, to India, African nations, the Southern Cone of Latin America, Northern Europe and the United States. Soybean farming, breeding, processing and marketing have bound together the histories of these diverse regions and altered beyond recognition their ecological and socio-economic contexts.

THE EDITORS
Claiton Marcio da Silva is an Associate Professor at the Federal University of the Southern Frontier (UFFS), Santa Catarina, Brazil and a CNPq Productivity Researcher. He began studying the modernisation of Brazilian agriculture in 2002, completing his MA in history at the Federal University of Santa Catarina (UFSC) with a thesis on rural youth in Southern Brazil. At Casa de Oswaldo Cruz (COC/Fiocruz), his doctoral dissertation explored the role of Nelson Rockefeller's American International Association for Economic and Social Development (AIA) in introducing the US extension service model in Latin America. Recently, he has been exploring the global environmental history of soybeans and their impacts on traditional populations in the Global South.
Claudio de Majo is a doctoral candidate at the Rachel Carson Center for Environment and Society (Ludwig-Maximilians University, Munich). His research interests include global environmental history, the environmental history of Europe and Latin America, and the relation between the commons and ecology. He is also interested in cutting-edge methodologies such as evolutionary history and neo-materialism. Claudio's research has received funding from the Andrea von Braun Stiftung for Interdisciplinary Studies, the Leibniz Institute of European History (IEG) and the Amerika-Institut (LMU Munich), where he also works as a lecturer. He is deputy editor of Global Environment: A Journal of Transdisciplinary History.


---
Table of Contents
Foreword – Antônio Inácio Andrioli
Introduction
Part I. Soybeans Before the Great Acceleration
Soybean as a Critical Genetic Resource: Domestication, Dissemination and Introduction of Glycine ma–x(Samira Moretto, Eunice Sueli Nodari and Rubens Nodari).
A History of Soy in China: From Weedy Bean to Global Commodity (Brian Lander and Thomas David DuBois).
The Polish-Brazilian Soy Connection: Ceslau Biezanko and the introduction of Soy Utilities in Rio Grande do Sul During the 1930s (Rhuan Targino Zaleski Trindade).
Part II. Soybean Markets During the Great Acceleration
Great Accelerations: Soy and its Global Trade Network, 1950–2020 (Ernst Langthaler).
Sojización as a new first movement: a Polanyian analysis of the South American soybean 'boom' (Matilda Baraibar Norberg).
The Impact of Soybean Farming in Brazil's Last Commodity Frontier: Scientific Food Production and Landscape Transformations in MATOPIBA (Cassiano de Brito Rocha, Kárita de Jesus Boaventura, Giovanni de Araujo Boggione and Sandro Dutra e Silva).
Part III. The Elements of Soy and Environmental Degradation
A Soyacene of Fire: Knowledge, Science, and the Igneous Expansion of Soybean in Tropical/Subtropical South America (Eduardo Relly and Claudio de Majo).
Soybean Cultivation and its Water-related Impacts in Brazil and the United States (Larissa Trindade, John Hoornbeek, Mutlaq Albugmi, Joshua Filla and Rodrigo Fortunato de Oliveira).
Five decades of soybean agriculture: Soil nitrogen exports and social costs in the Argentine Pampas, 1970-2021 (Enrique Antonio Mejia).
Part IV. Soybean Nutrition and Technology
Soy and Meat: A Postwar North American History (Anna Zeide).
Imagining Soy in Germany: Changing Scientific Visions in the Twentieth Century (Janina Priebe).
Between Brazil and Paraguay: An Envirotech History of Global Soybean Farming (Jó Klanovicz).
Crisis Narratives from the Dutch Soyacene: Regional Sustainability Histories at Sites of Soy Consumption (Erik van der Vleuten and Evelien de Hoop).
Part V. Soybean and the Agrarian Question: A Regional History
From Self-Reliance to Deepening Distress: The Ambivalence of the Yellow Revolution in India (Richa Kumar).
Domesticating the Exotic: Soya Livelihoods and Ecological Impacts in modern Zimbabwe, 1900-2021 (Vimbai Chaumba Kwashirai).
Soybean Landscapes: Production, Environment and Life Quality (José Muzlera).
Index
---

ISBN 978-1-912186-64-8 (PB) / ISBN 978-1-912186-65-5 (eBook)
Paperback £35 / 1st November 2022