Nature, Development and Environment in the Cairngorms Region of Scotland, 1880–1980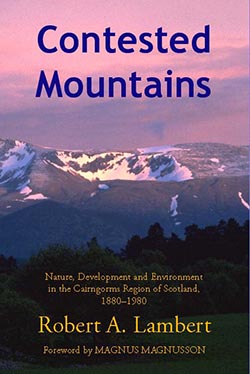 Robert A. Lambert
Contested Mountains is an historical study of the extraordinary changes in attitudes to Nature and the use of land in the Cairngorms region since 1880. The study looks at early visitor perceptions of the region and the history of rights of way disputes in the area. It also presents an environmental history of the osprey in Scotland, and the history and development of Glenmore National Forest Park, the Aviemore tourist industry, the Cairngorms National Nature Reserve and the Cairngorms National Park ideal.
Contested Mountains is essential reading for anyone interested in the historical background to present-day debates about land-use and access in the Cairngorms.
THE AUTHOR
Robert A. Lambert was Senior Research and Teaching Fellow at the Institute for Environmental History, University of St Andrews, Scotland, but has been a cross-Faculty 'environment' academic at the University of Nottingham for the last twenty years. He is the University Environmental Ambassador and serves as Vice-President of Nottinghamshire Wildlife Trust.

CONTENTS
Abbreviations and Acronyms
Maps
Foreword by Magnus Magnusson KBE
Introduction
1. 'At last the full prospect of these glorious Cairngorms': The Discovery of the Mountains, Early Visitors and Victorian Tourists
2. 'By right and not by favour': The Rights of Way Debate
3. James Bryce: His Access Campaign in Scotland, his Legacy and his Critics
4. The Osprey on Speyside: An Environmental History
5. Hotels, Hoteliers and Cairngorms Tourism 1900–1955
6. The Post-war Recreation Boom
7. Enjoying the Pinewoods: The Glenmore National Forest Park Ideal
8. 'Our natural playground': The Cairngorms National Park Ideal
9. From Aspiration to Designation: The Origins of the Cairngorms National Nature Reserve
10. Balancing Science, Nature and People: The Management of the Largest National Nature Reserve in Britain
11. Postscript
Bibliography
Index
---
Publication date: 15 March 2022
ISBN 978-1-912186-53-2 (PB) £25