Essays in Russian Environmental History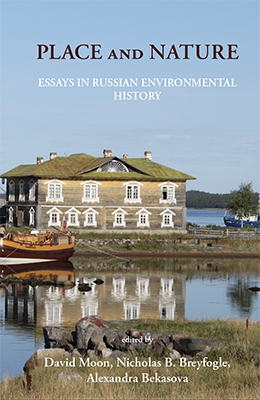 Edited by David Moon, Nicholas B. Breyfogle and Alexandra Bekasova
Exploring Russis's Environmental History
This book offers new perspectives on the environmental history of lands that have come under Russian and Soviet rule by paying attention to 'place' and 'nature' in the intersection between humans and the environments that surround them. Through case studies of specific places in northwestern Russia, for example the Solovetskie Islands, the Urals, Siberia, in particular Lake Baikal, and the Russian Far East, the book highlights the importance of local environments and the specificities of individual places and spaces in understanding the human-nature nexus. This focus is accentuated by the fact that the authors have considerable, first-hand experience of the places they write about that complements and supplements their research in textual sources.
THE EDITORS
David Moon is Professor of history at the University of York, UK, Honorary Professor at the School of Slavonic and East European Studies, University College London, and was Visiting Professor at Nazarbayev University, Nur-Sultan, Kazakhstan in 2018–20. His interests include Russian, Eurasian and transnational environmental history.
Nicholas B. Breyfogle is Associate Professor of History at The Ohio State University, USA. He is the author of several volumes and is currently completing the book, Baikal: the Great Lake and its People.
Alexandra Bekasova is Research Fellow at the Laboratory for Environmental and Technological History and Associate Professor at the National Research University Higher School of Economics (NRU HSE), St Petersburg, Russia. Her research focus is on the history of mobility, transportation and technology, and environmental history.
---
CONTENTS
Place and Nature: An Introduction David Moon, Nicholas B. Breyfogle, Alexandra Bekasova and Julia Lajus
PART I. THE NORTHWEST AND THE EUROPEAN NORTH OF RUSSIA
2. 'The Space of Blue and Gold': The Nature and Environment of Solovki in History and Heritage. Alexei Kraikovski and Julia Lajus
3. Polluted Pearl of the North: Lake Imandra in the Anthropocene. Andy Bruno
4. The Vision and the Reality in the Taiga of Karelia and the Arkhangel′sk Oblast′: Oleg Cherviakov and Vodlozero National Park. Alan Roe
5. 'There, Where They Have Grown Accustomed to Flooding': Comparing the St Petersburg Flood of November 1824 and the Leningrad Flood of September 1924. Robert Dale
PART II. BEING THERE: PHOTOGRAPHIC ESSAYS
6. Faith and Nature on Solovki. Nicholas B. Breyfogle
7. Industrial Heritage in the Urals. Catherine Evtuhov
8. New Dams, Warming Waters, Forest Fires: Lake Baikal in Peril. Bryce Stewart
9. A Shaggy-Bear Story: An Environmental History from a Remote Region. David Moon
PART III. SIBERIA AND THE PACIFIC FAR EAST
10. Trans-Siberian 'Landscapes of Transportation' through the Lens of Travel Guidebooks in Late Imperial Russia. Alexandra Bekasova and Ekaterina Kalemeneva
11. The Environmental History of Lake Baikal. Arkady Kalikhman and Tatiana Kalikhman
12. The Origins of the Barguzin Nature Reserve. Nicholas B. Breyfogle
13. Baikal Waters: Industrial Development and Institutional Debates, 1950s–1970s. Elena Kochetkova
14. Hunting, Civil Society and Wildlife Conservation in the Russian Far East. Mark Sokolsky
---
Publication date, 1 February 2021
ISBN 978-1-912186-16-7 (HB) £70 / $95 / €75. 350 pp.