Nature in French Towns from the 17th Century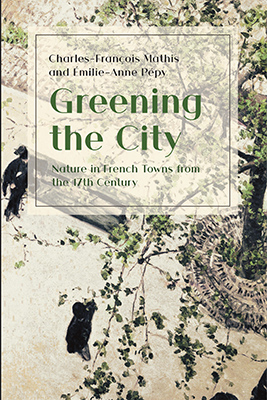 Charles-François Mathis and Émilie-Anne Pépy
The time seems ripe for the greening of cities: green roofs and walls, planted pavements, shared or therapeutic gardens… Is the city discovering its vegetable nature?
Exploring the place of nature in the French urban environment from the seventeenth to the twenty-first century, this volume, translated from the original French by Moya Jones, reveals, rather than a monolithic narrative, a continuous, but fluctuating, interlacing of paving stones and plants. The focus of this liberally-illustrated book is not just gardens and parks, but also all the plants and plant matter that circulate in the space of the city – vegetable waste, market fruits and vegetables, cut flowers, etc. These various forms give a new inflection to the history of cities, taking us on a voyage back to their natural roots.
We trace why the presence of certain aspects of nature in an urban environment has been accepted, sometimes encouraged; what actors have allowed it to take root and flourish; and what challenges have been faced along the way. In examining the vegetal nature of the city at the crossroads of social, economic, cultural and political history, green spaces and plants reveal themselves as instruments of urbanity or disorder; agents of stage setting, schooling and subsistence; objects of commerce, entertainment, scientific study, wellbeing or good living. From the gardens of the aristocracy of the Grand Siècle to the market of the Halles in Paris, from the parks of the Second Empire to botanical gardens, a whole new history is unveiled and throws the light of the past over our own time.
THE AUTHORS
Charles-François Mathis is Senior Lecturer in History at Bordeaux Montaigne University (France). He specialises in the environmental history of Britain and France in the nineteenth and twentieth centuries. He is currently preparing a cultural and material history of coal in Britain from the 1830s to 1940. Former chairman of the French network of environmental historians, he is also a member of the board of the ESEH and the editor of a series on environmental history 'L'environnement a une histoire', published by Champ Vallon.
Emilie-Anne Pépy is Senior Lecturer in History at Savoie Mont-Blanc University (France). Her doctoral and post-doctoral research led her to explore the history of the relations between societies and nature in the seventeenth and eighteenth centuries, based on two themes: man and the mountain environment; and the construction of knowledge about plant nature. Collaborating on collective research projects, she works on different but complementary subjects such as public health, botanical gardens and landscapes.
Translation by Moya Jones, who is a translator and academic in the humanities.
LOOK INSIDE THIS BOOK at Amazon.co.uk
---
CONTENTS
Introduction. Greenery scenery: Plant life in the city, seventeenth to twenty-first centuries
Chapter 1. Why bring Nature into town?
Chapter 2. Green fingers: Actors in the vegetalisation of towns
Chapter 3. Turning the town green: A challenge
Chapter 4. Vegetal theatre
Chapter 5. Wellbeing, living well
Chapter 6. The urban jungle? Plant life… wild life
Chapter 7. The economics of the vegetal
Chapter 8. Nature and learning
---
Publication date, 15 June 2020. 332 pages.
ISBN 978-1-912186-13-6 (HB) £75