Contested Commons in the Nineteenth Century Venetian Alps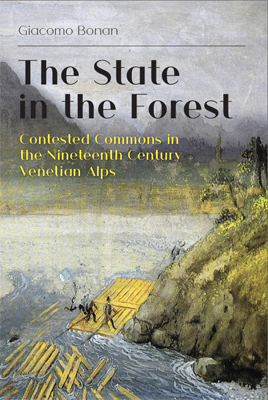 Giacomo Bonan
ENVIRONMENT, ECONOMY AND THE 'GREAT TRANSFORMATION'
The State in the Forest uses a case study of conflict over use of wood – the principal source of energy and the primary raw material at the time – to offer an environmental history of the nineteenth century 'great transformation'. The focus is on Cadore, a supposedly peripheral area that was, in fact, at the core of the wood economy. The region comprises several valleys of the Eastern Italian Alps that constituted the main timber supply basin of Venice and other cities of the Veneto plain. With vivid and in-depth description of the role of forest resources for both local communities and state apparatus, the book sheds new light on key aspects of the nineteenth century agrarian world: the debate on wood shortage and the rise of scientific forestry; the social and environmental consequences of Napoleonic administrative reforms; the ambivalent relationship between privatisation of common lands and the restrictions imposed by state authorities on common and customary activities; the reorganisation of timber trade networks during the first steps of the industrial transition in continental Europe. Local socio-economic dynamics illuminate the interrelations between the macro and micro scales, showing how general transformations were perceived and experienced on the ground and how local actors were both subjects and agents of these events.
Look inside this book at Amazon.co.uk
THE AUTHOR
Giacomo Bonan (b. Feltre, 1987) is postdoctoral fellow at the University of Bologna and research fellow at the Laboratory of the History of the Alps at the University of Italian Switzerland. He has studied and worked in Bologna, Stockholm and Venice. His research interests include the relations between property regimes and systems of natural resources management; forest history; water history; and rural social conflicts associated with modernisation. He is now working on a project about the transformation of an Italian river during the industrial transition.
---
CONTENTS
Introduction

Chapter 1. Prologue. Common land and forest resources: From the ancien régime to the new order

Chapter 2. The setting. Cadore in the nineteenth century:Institutions, populations, resources

Chapter 3. Old uses, new abuses

Chapter 4. Contested Forests

Chapter 5. From revolution to unification. The sunset of the civilisation of wood
---
Publication date, 1 July 2019
ISBN 978-1-912186-08-2 (HB) £65 230 pp.
ISBN 978-1-912186-67-9 (PB) £30 238 pp.