Environment, Governance and Risk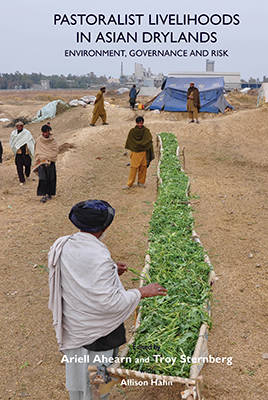 Edited by Ariell Ahearn and Troy Sternberg, with Allison Hahn
INDIGENOUS PERSPECTIVES ON PASTORALISM, POLICY AND THE ENVIRONMENT
Pastoralist Livelihoods in Asian Drylands brings together the work of scholars from across Asia to discuss the transforming boundaries, agencies and risks involved in pastoralist livelihoods. The authors, whose research sites range from Oman to Mongolia, Syria to Pakistan, share methodological commitment to long-term field research, participant observation and engagement with local communities. There is a focus on pastoralist engagements with governance institutions and the essays collectively argue that risk, which is often imagined in environmental terms for pastoralist peoples, often stems from government policies and political circumstances. The authors challenge common ecological approaches to understanding social change amongst pastoralist groups by focusing on the politics of resource distribution and control. Papers in the volume support an indigenous perspective on pastoralists and present academic perceptions and assessments of key issues in their local context.
LOOK INSIDE THIS BOOK at Amazon.co.uk
THE EDITORS
Ariell Ahearn is an ESRC postdoctoral fellow at the School for Geography and the Environment, University of Oxford. She holds an M.P.A. from Cornell University and a D.Phil. from the University of Oxford. She has worked with rural pastoralists in Mongolia since 2004 with research focusing on land tenure, local governance, gendered divisions of labour and social organisation.
Troy Sternberg is a researcher at the School for Geography and the Enviornment at the Univeristy of Oxford, where he works on pastoral environments in the Gobi Desert. His focus is on natural hazards, environmental processes, the effectiveness of traditional nomadic strategies and the comparative ecological impact of livelihoods across the Asian steppe.
---
Chapter 1. Introduction. Ariell Ahearn and Allison Hahn
Chapter 2. The Afterlife of Nomadism: Pastoralism, Environmentalism, Civilisation and Identity in Mongolia and China. D. Bumochir
Chapter 3. Environment as Commodity and Shield: Reshaping Herders' Collective Identity in Mongolia. Byambabaatar Ichinkhorloo
Chapter 4. From Reform to Revolt: Bashar al-Assad and the Arab Tribes in Syria. Haian Dukhan
Chapter 5. Herder Participation in Modern Markets: the Issues of the Credit Loan Trap. Gongbuzeren
Chapter 6. Indigenous Systems of Ecological Knowledge and Conservation Initiatives in Jabal Akhdar Mountain, Oman. Salah al Mazrui
Chapter 7. Afghan/Pakistan border politics: what future for Kuchi nomads? Inam ur Rahim
Chapter 8. Transhumance and Change Among the Rungs of Uttarakhand Himalayas. Nisthasri Awasthi
Chapter 9. From Stewards to Trespassers: Pastoralist Management of Forest Resources. Aman Singh
Chapter 10. Conservation of Tangible and Intangible Properties of the Tent in Jordanian Badia. Wassef Al Sekhaneh
---
1 June 2017
ISBN 9781-874267-980 (HB) £65. 240 pp.