A Social and Spatial History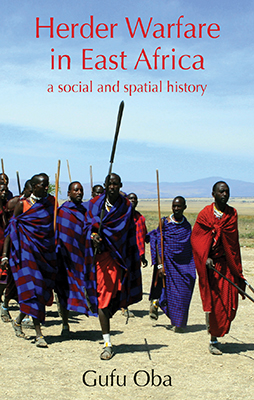 Gufu Oba
NOMADIC HERDERS AT WAR: PEOPLE, PLACES, ENCOUNTERS
Herder Warfare in East Africa presents a regional analysis of the spatial and social history of warfare among the nomadic peoples of East Africa, covering a period of 600 years. The long dureé facilitates understanding of how warfare among pastoralist communities in earlier centuries contributed to political, economic and ethnic shifts across the grazing lands in East Africa. The book discusses herder warfare from the perspective of warfare ecology, highlighting the interrelations between environmental and cultural causalities – including droughts, famine, floods, ritual wars, religious wars and migrations – and the processes and consequences of war. Regional synthesis concentrates on frontiers of conflicts extending from the White Nile Basin in south Sudan – into the southern savannas of East Africa, the Great East African Rift Valley, and the northern and southern Horn of Africa – examining historical military power shifts between diverse pastoralist cultures. Case studies are set in the coastal hinterland of East Africa and the Jubaland-Wajir frontiers. Warfare combined with environmental disasters caused social-economic breakdowns and the enslavement of defeated groups. The dynamics of herder warfare changed after colonial entry, response to pastoralist resistance and slave emancipation. The book is of interest to specialist and non-specialist readers exploring pastoralism, social anthropology and warfare and conflict studies; and is suitable for introductory graduate courses in environmental and social history of warfare.
LOOK INSIDE THIS BOOK at Amazon.co.uk
THE AUTHOR
Gufu Oba is a Professor in the Department of International Environment and Development Studies (Noragric) at the Norwegian University of Life Sciences, Norway. Professor Oba is also the author of Nomads in the Shadows of Empires (Brill, 2013) and Climate Change Adaptation in Africa: An Historical Ecology (Routledge, 2014).
---
CONTENTS
Warfare ecology. An introduction
PART I. Regional comparative analysis of herder warfare
Chapter 1. Institutions of warfare: a comparative perspective
Chapter 2. Frontiers of warfare: a regional analysis, c. 1340–1893
PART II. Migration, Conquests and Enslavement
Chapter 3. Warfare footprints in coastal hinterland of East Africa, c. 1500–1800
Chapter 4. Hegemony, clients and trade control in coastal hinterland, c. 1640–1870
Chapter 5. Invasions and Conquest: the wars of Wama, c. 1830–1870
Chapter 6. Political ecology of a collapse: the southern Oromo, c. 1860–1890
Chapter 7. Enslavement of the Warda Oromo: slave family life histories, 1840–1890
PART III. Colonial resistance, Containment and Slave Emancipation
Chapter 8. Contesting pastoralists' military power: resistance to colonial rule, 1885–1918
Chapter 9. Colonial resource capture: responses to trans-frontier migrations, 1909–1925
Chapter 10. The containment policy: administration of grazing lines, 1909–1955
Chapter 11. Crossing the river: the Warda emancipation, 1890–1963
Conclusion, References, Index
---
15 May 2017, 350pp.
ISBN 978-1-874267-96-6 (HB) £65