Nature and the Social Imagination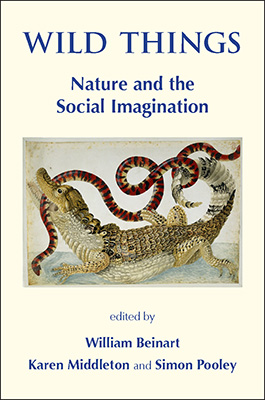 Edited by William Beinart, Karen Middleton and Simon Pooley
HISTORIES OF HUMAN CONSTRUCTIONS OF NATURE
Wild Things: Nature and the Social Imagination assembles eleven substantive and original essays on the cultural and social dimensions of environmental history. They address a global cornucopia of social and ecological systems, from Africa to Europe, North America and the Caribbean, and their temporal range extends from the 1830s into the twenty-first century.
The imaginative (and actual) construction of landscapes and the appropriation of Nature – through image-fashioning, curating museum and zoo collections, making 'friends', 'enemies' and mythical symbols from animals – are recurring subjects. Among the volume's thought-provoking essays are a group enmeshing nature and the visual culture of photography and film. Canonical environmental history themes, from colonialism to conservation, are re-inflected by discourses including gender studies, Romanticism, politics and technology.
The loci of the studies included here represent both the microcosmic – underwater laboratory, zoo, film studio; and broad canvases – the German forest, the Rocky Mountains, the islands of Haiti and Madagascar. Their casts too are richly varied – from Britain's otters and Africa's Nile crocodiles to Hollywood film-makers and South African cattle. The volume represents an excitingly diverse collection of studies of how humans, in imagination and deed, act on and are acted on by 'wild things'.
LOOK INSIDE THIS BOOK at Amazon.co.uk
THE EDITORS
William Beinart is Rhodes Professor of Race Relations at the University of Oxford. His environmental history publications include The Rise of Conservation in South Africa (2003), Social History and African Environments (ed. with JoAnn McGregor, 2003), Environment and Empire (with Lotte Hughes, 2007) and, with Luvuyo Wotshela, Prickly Pear: the Social History of a Plant in the Eastern Cape (2011). He is currently working on the history of wildlife film and photography in Africa and, with Karen Brown, on local knowledge about livestock management and veterinary ideas in rural South Africa.
Dr Karen Middleton is an independent researcher with expertise on Madagascar. She has published analyses of kinship and ritual in the island's deep south, where she lived for several years. A Nuffield Foundation research fellowship enabled her to train in environmental history, since when she has drawn on archival research, oral history and continuing ethnographic fieldwork to explore the historical ecology of southern Madagascar, focusing on the cultural and economic dimensions of plant transfer.
Dr Simon Pooley is a Junior Research Fellow at Imperial College London Conservation Science, working on an environmental history of crocodilian conservation in southern Africa, Australia, India and the USA. His doctoral research (University of Oxford) was on the environmental history of wild fire in South Africa. He has published on Dutch colonial environmental history, forestry and fire and invasive plants in South Africa, in Environment & History and elsewhere.
---
CONTENTS
Introduction. Wild Things: Nature and the Social Imagination. William Beinart, Karen Middleton and Simon Pooley.
Chapter 1. 'Hunting with the Camera': Photography, Animals and the Technology of the Chase in the Rocky Mountains. Karen Jones.
Chapter 2. Hollywood in Africa 1947–62: Imaginative Construction and Landscape Realism. William Beinart & Dominique Schafer.
Chapter 3. Livestock, Identity and the Social Imagination in South Africa. Amy Halliday.
Chapter 4. Building a Scenic Landscape: Nature and History on the Columbia River Highway, 1913–1916. Tyler A. Cornelius.
Chapter 5. The Hunted Otter in Britain, 1830–1939. Daniel Allen.
Chapter 6 . No Tears for the Crocodiles: Representations of Nile Crocodiles and the Extermination Furore in Zululand, South Africa, from 1956–8. Simon Pooley.
Chapter 7. Science, 'Stars' and Sustenance: The Acquisition and Display of Animals at Bristol Zoological Gardens, 1836–c.2010. Andrew J. P. Flack.
Chapter 8. From Poetry to Politics: The Romantic Roots of the 'German Forest'. Johannes Zechner.
Chapter 9. Of Trees and the Political Imagination in 'Neo-Colonial' Madagascar. Karen Middleton.
Chapter 10. On Revolutionary Dirt in Haiti. Lauren Robin Derby.
Chapter 11. Reshaping Nature: Underwater Laboratories, Ecology, and Outer Space in West Germany and the United States. Sven Asim Mesinovic.
---
1 July 2013, 250pp. Halftones, colour and black and white illustrations, maps, figures.
ISBN 978-1-874267-75-1 (HB) £70
ISBN 978-1-874267-93-5 (PB) £28