A Comparative History of Mountains in the Modern Era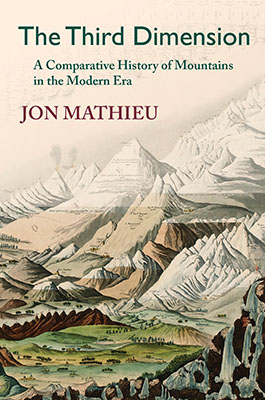 Jon Mathieu
translated by Katherine Brun
A PIONEERING EXAMINATION OF THE THREE-DIMENSIONALITY OF THE EARTH FROM THE PERSPECTIVE OF HISTORY AND THE HUMANITIES
This book considers the variegated world of mountains and their development during the last 500 years. It takes as its starting point the United Nations environmental conference of 1992 in Rio de Janeiro, where the mountains were officially recognised as a topic of the world community. Important precedents for this new agenda were built in the early modern period and in the nineteenth century, as European societies began to exceed their traditional limitations. The book begins with an investigation of this long-term process with respect to science, culture and politics, each of which has transformed our attitudes toward mountainous regions. It then takes up historical problems that have been debated in the latest research, placing them in a comparative framework. At the book's heart stands the question of whether and in what way the 'three-dimensional history' of mountain people may reveal distinctive forms of development.
LOOK INSIDE THIS BOOK at Amazon.co.uk
THE AUTHOR
Jon Mathieu is professor of history at the University of Lucerne and at the Swiss Federal Institute of Technology in Zurich. He was the founding director of the Instituto di Storia delle Alpi at the Università della Svizzera italiana and has organized several international conferences about the history of mountains. In 2008 he received the King Albert I Mountain Award for his research.
---
CONTENTS
Foreword
1. THE GLOBALISATION OF PERCEPTION
1992: A Constitution for the Mountains
1492: Expansion and Change in Perception
Alexander von Humboldt
Scientific Departure
The Politicisation of the Environment
2. POPULATION AND URBANISATION
Upland Demography
Asynchrony of Settlement
Urbanisation
Two Theories
3. AGRICULTURE, FAMILY, MOBILITY
Agriculture
Animal Husbandry
Family and Mobility
4. CULTURAL DIVERSITY AND MODERNITY
Western Modernisation
The Spiritual Empowerment of the Landscape
North-South Conflict Community
5. RESULTS AND OUTLOOK
---
Publication date: 1st August 2011, 220pp. Colour plates, black and white illustrations, maps, figures
ISBN 978-1-874267-78-2 (PB) £25