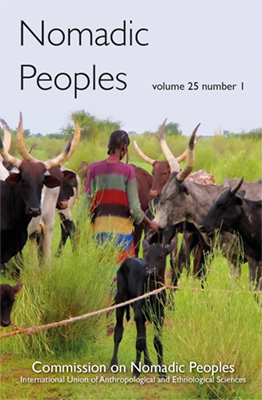 Essential reading for academics and policymakers
Nomadic Peoples
Nomadic Peoples is an international journal published by the White Horse Press for the Commission on Nomadic Peoples, International Union of Anthropological and Ethnological Sciences. Its primary concerns are the current circumstances of all nomadic peoples around the world and their prospects. Its readership includes all those interested in nomadic peoples – scholars, researchers, planners and project administrators.
For 2023 subscriptions, we are offering the journal on a Subscribe to Open basis, in the hope that we can publish the entire year's output fully Open Access at no cost to authors. Even if the journal remains gated under S2O, author fees would only apply if the author wishes to convert their own article to OA. For more information, please see our statement, here.
Commission on Nomadic Peoples
Chair Ariell Ahearn, University of Oxford
Vice-chair Troy Sternberg, University of Oxford
ISSN: 0822-7942 (print) 1752-2366 (online).
NOMADIC PEOPLES EDITOR
Saverio Krätli saverio.kratli@gmail.com
ASSOCIATE EDITORS
Andrei Marin, Norwegian University of Life Sciences
Caroline Dyer, University of Leeds
Adam Higazi, University of Amsterdam, University of Oxford
Tilman Musch, University of Bayreuth
Mansour Nsasra, Ben Gurion University of the Negev
Emilia Ròża Sułek, University of Fribourg
Matthieu Salpeteur, French National Research Institute for Development (IRD)
Elizabeth Stites, Feinstein International Center, Tufts University
BOOK REVIEWS EDITORS
Charlotte Marchina, Institut National des Langues et Civilisations Orientales, Paris
Greta Semplici, European University Institute in Florence
EDITORIAL BOARD
---
Subscriptions are available for Online Access only, or Print plus Online Access.
INDEXING AND ABSTRACTING
Nomadic Peoples is indexed/abstracted by: Abstracts in Anthropology, Anthropological Index (On-line), Anthropological Literature, CABI, Emerging Sources Citation Index, eHRAF: Collection in Ethnography, Human Population and the Environment, Index Islamicus, Infotrac Online, International Bibliography of Book Reviews of Scholarly Literature on the Humanities and Social Sciences (IBR), International Biblio of Periodical Literature (IBZ), Linguistics and Language Behavior Abstracts, SCOPUS, Social Services Abstracts, Thomson Reuters Emerging Sources Citation Index, Sociological Abstracts, Worldcat, Worldwide Political Science Abstracts.
SUBMISSION AND PUBLICATION DETAILS
Papers should be submitted using our online submission system
We also offer free access to the full text of selected BOOK REVIEWS and otherSUPPLEMENTARY CONTENT.