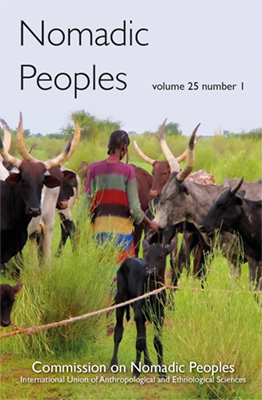 Nomadic Peoples
ISSN: 0822-7942 (print) 1752-2366 (online).
LATEST ISSUE: Volume 25, Number 1
Online Contents, Abstracts and Full Text
Nomadic Peoples is an international journal published by the White Horse Press for the Commission on Nomadic Peoples, International Union of Anthropological and Ethnological Sciences. Its primary concerns are the current circumstances of all nomadic peoples around the world and their prospects. Its readership includes all those interested in nomadic peoples – scholars, researchers, planners and project administrators.
Nomadic Peoples is indexed/abstracted by: Abstracts in Anthropology, Anthropological Index (On-line), Anthropological Literature, CABI, Emerging Sources Citation Index, eHRAF: Collection in Ethnography, Human Population and the Environment, Index Islamicus, Infotrac Online, International Bibliography of Book Reviews of Scholarly Literature on the Humanities and Social Sciences (IBR), International Biblio of Periodical Literature (IBZ), Linguistics and Language Behavior Abstracts, SCOPUS, Social Services Abstracts, Thomson Reuters Emerging Sources Citation Index, Sociological Abstracts, Worldcat, Worldwide Political Science Abstracts.
Papers should be submitted using our online submission system
---
COMMISSION ON NOMADIC PEOPLES
CHAIR Ariell Ahearn, University of Oxford
VICE-CHAIR Troy Sternberg, University of Oxford
NOMADIC PEOPLES EDITOR
Saverio Krätli saverio.kratli@gmail.com

ASSOCIATE EDITORS
Andrei Marin, Norwegian University of Life Sciences
Caroline Dyer, University of Leeds
Adam Higazi, University of Amsterdam, University of Oxford
Tilman Musch, University of Bayreuth
Mansour Nsasra, Ben Gurion University of the Negev
Emilia Ròża Sułek, University of Fribourg
Matthieu Salpeteur, French National Research Institute for Development (IRD)
Elizabeth Stites, Feinstein International Center, Tufts University
BOOK REVIEWS EDITOR
Charlotte Marchina, Institut National des Langues et Civilisations Orientales, Paris

EDITORIAL BOARD
Barbara Casciarri, Department of Sociology, University Saint-Denis, Paris
Michael Casimir, Institut für Ethnologie, University of Cologne
Dawn Chatty, Refugee Studies Centre, Queen Elizabeth House, Oxford University
Jonathan Davies, International Union for Conservation of Nature, Nairobi
Fachun Du, Institute of Anthropology and Ethnology, Yunnan Agricultural University, China
María Fernández-Giménez, Dept. of Forest and Rangeland Stewardship, Colorado State University
John Galaty, Research and Graduate Studies, McGill University, Montreal
Kazunobu Ikeya, National Museum of Ethnology, Osaka
Dorothy Hodgson, Brandeis University
Brigitte Kaufmann, German Institute of Tropical and Subtropical Agriculture (DITSL) at University of Kassel, Witzenhausen, Germany
Shinya Konaka, School of International Relations, University of Shizuoka
Peter D. Little, Department of Anthropology, Emory University
Terrence McCabe, Department of Anthropology and Environment and Behavior Program, Institute of Behavioral Science, University of Colorado
Daniel Miller, United States Agency for International Development, New Delhi
Maryam Niamir Fuller, Sustainable Development Senior Advisor, Independent Consultant
Gufu Oba, Noragric, Department of International Environment & Development Studies, Norwegian University of Life Sciences
Henri Rueff, University of Bern
Philip C. Salzman, Department of Anthropology, McGill University
Günther Schlee, Max Planck Institute for Social Anthropology, Halle/Saale
Wu Ning, International Centre for Integrated Mountain Development (ICIMOD)
Ibrahim Ag Youssouf, independent consultant in and for pastoralist societies (conflict transformation/resolution, and education)
The Commission on Nomadic Peoples of the International Union of Anthropological and Ethnological Sciences (IUAES) in collaboration with the Ford Foundation has digitized, preserved and extended access to the issues of the journal of Nomadic Peoples from its inception in 1979 up to 1996. For direct access to these back issues visit the Commission on Nomadic Peoples website http://iuaes.org/comm/cnp/
All subsequent issues are available online to subscribers through ingentaconnect.