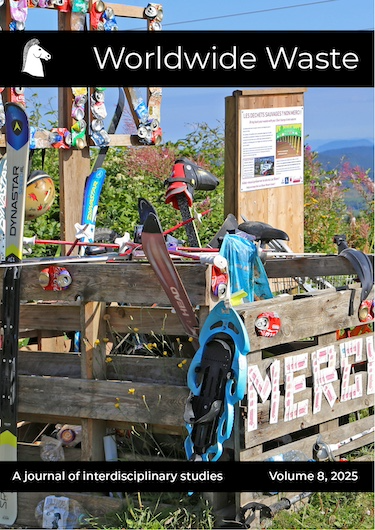 Innovative research on waste from around the world
Worldwide Waste
A Journal of Interdisciplinary Studies
Aims and Scope
Worldwide Waste is an interdisciplinary, peer-reviewed journal presenting innovative research on waste from around the world. It provides the first scholarly platform for open-access scholarship that critically interrogates the cultural, social, economic and political systems within which waste is created, managed and circulated. Since both the materials of discards and their meanings vary in time and space, research on waste needs to attend to empirical investigation of local contexts. Devoted to scholarship, the journal privileges no particular theories, debates or trends. Its goal is to actively stimulate publications of innovative scholarship on relatively unexplored topics and/or from geographical areas that have thus far been underrepresented in waste studies. The scope of Worldwide Waste is not restricted to the present, but welcomes contributions from scholars investigating historical aspects of human relationships with waste. Submissions are encouraged from across the humanities and social sciences, including anthropology, archaeology, ecology, geography, politics, sociology, and science and technology studies. Submissions are also welcomed from disciplines in which waste-related research is currently less prominently represented, such as literature, philosophy, and the visual and performing arts.
Worldwide Waste will be published by white Horse Press from 2024. Previous volumes were published by Ubiquity, and all back articles can be accessed on the journal's Ubiquity webpage, here.
Worldwide Waste is conceived as open access. For 2024, we are seeking to cover the journal's production costs without charging author fees through a Subscribe-to-Open offer.
The journal publishes double blind peer reviewed papers. Papers should be submitted using our ONLINE SUBMISSION SYSTEM, coming soon; until the new online system is ready, please contact the editors. The present, Ubiquity, submission portal is now closed to new submissions.
EDITORIAL TEAM
Co-editors in Chief
Katarzyna Cwiertka Leiden University, Netherlands
Loretta Lou Durham University, United Kingdom
Editorial Board
Catherine Alexander Durham University, United Kingdom
Marco Armiero Universitat Autònoma de Barcelona (UAB), Spain
Trine Brox University of Copenhagen, Denmark
Elena Burgos Martinez Leiden University, Netherlands
Waqas H. Butt University of Toronto Scarborough, Canada
Freek Colombijn Vrije Universiteit Amsterdam, Netherlands
Julia Corwin London School of Economics and Political Sciences, United Kingdom
Jacob Doherty University of Edinburgh, United Kingdom
Assa Doron Australian National University, Australia
Patrick O'Hare University of St Andrews, United Kingdom
Masanobu Ishikawa Eikei University of Hiroshima, Japan
Professor Ka-Ming Wu Chinese University of Hong Kong, China
Peter Little Rhode Island College, United States
Adam Liebman DePauw University, United States
Anna Lora-Wainwright University of Oxford, United Kingdom
Josh Reno Binghamton University, United States
Gonçalo Santos University of Coimbra, Portugal
Tammara Soma Simon Fraser University, Canada
Jun Zhang City University of Hong Kong, China

---
ISSN: 2399-7117 (Online, OPEN ACCESS via S2O)