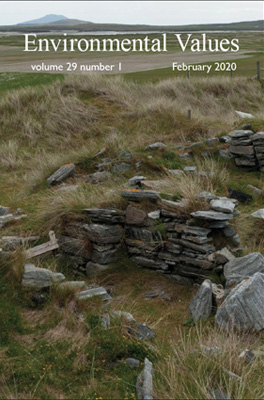 Environmental Values
Environmental Values is an international peer-reviewed journal that brings together contributions from philosophy, economics, politics, sociology, geography, anthropology, ecology and other disciplines, which relate to the present and future environment of human beings and other species. In doing so we aim to clarify the relationship between practical policy issues and more fundamental underlying principles or assumptions.
Contents lists and abstracts of all volumes are on this website.
Free Online Access
As a sampler of Environmental Values we are currently offering FREE online access to the articles listed below.
Recent editorials are also free online.

Members of the European Society for Ecological Economics also enjoy free online access to the current volume of the journal. Log-in details available from the Society.


Environmental Aesthetics and Rewilding. Jonathan Prior, Emily Brady

The Problem of Inclusion in Deliberative Environmental Valuation. Andrés Vargas, Alex Lo, Michael Howes, Nicholas Rohde

The Green Economy: Pragmatism or Revolution? Perceptions of Young Researchers on Social Ecological Transformation. Dalia D'Amato, Nils Droste, Sander Chan, Anton Hofer

The Skewed Vulnerabilities and Moral Corruption in Global Perspectives on Climate Engineering. Wylie Carr, Christopher J. Preston